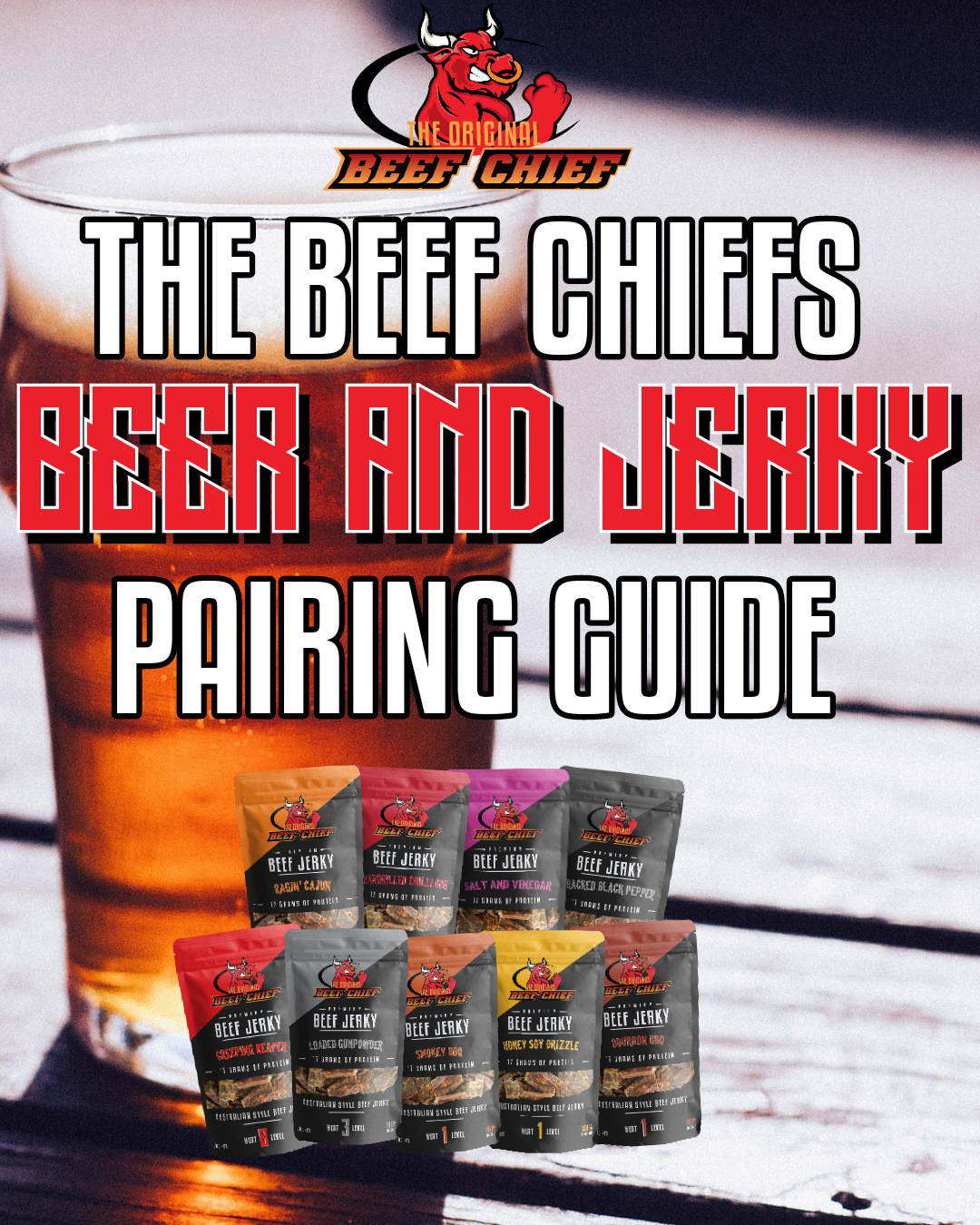 Beef Jerky & Beer Pairing Guide
Picture this...
It's Friday arvo and its been a LONG week, you've worked overtime, the kids wont stop hangin' off ya like monkeys but all is fine in the world because you can FINALLY sit back on the couch with a BEER in one hand and some quality BEEF JERKY in the other and have a bloody good time! 🍺
"What types of beers go with what types of jerky?"
The Beef Chief has done you solid and completed all the ground work for ya!
We organised a group of both Beer and Beef Jerky enthusiasts, from all walks of life, to sit down at The Local Brew House in South East Melbourne and test a wide range of brews side by side with our wide range of chews and let us know their thoughts!

Each of our Beef Jerky flavours was tried with each type of Beer then rated on out of 5 with each person commenting on their experience. Sounds like a rippa of a night doesn't it?! 😎

We then sat down (with more beers in hand of course cos' hydration is key) reviewed and collated all the info into our handy BEEF JERKY & BEER PAIRING GUIDE so you know exactly what type of drops will enhance ya favourite Beef Chief Jerky Flavours!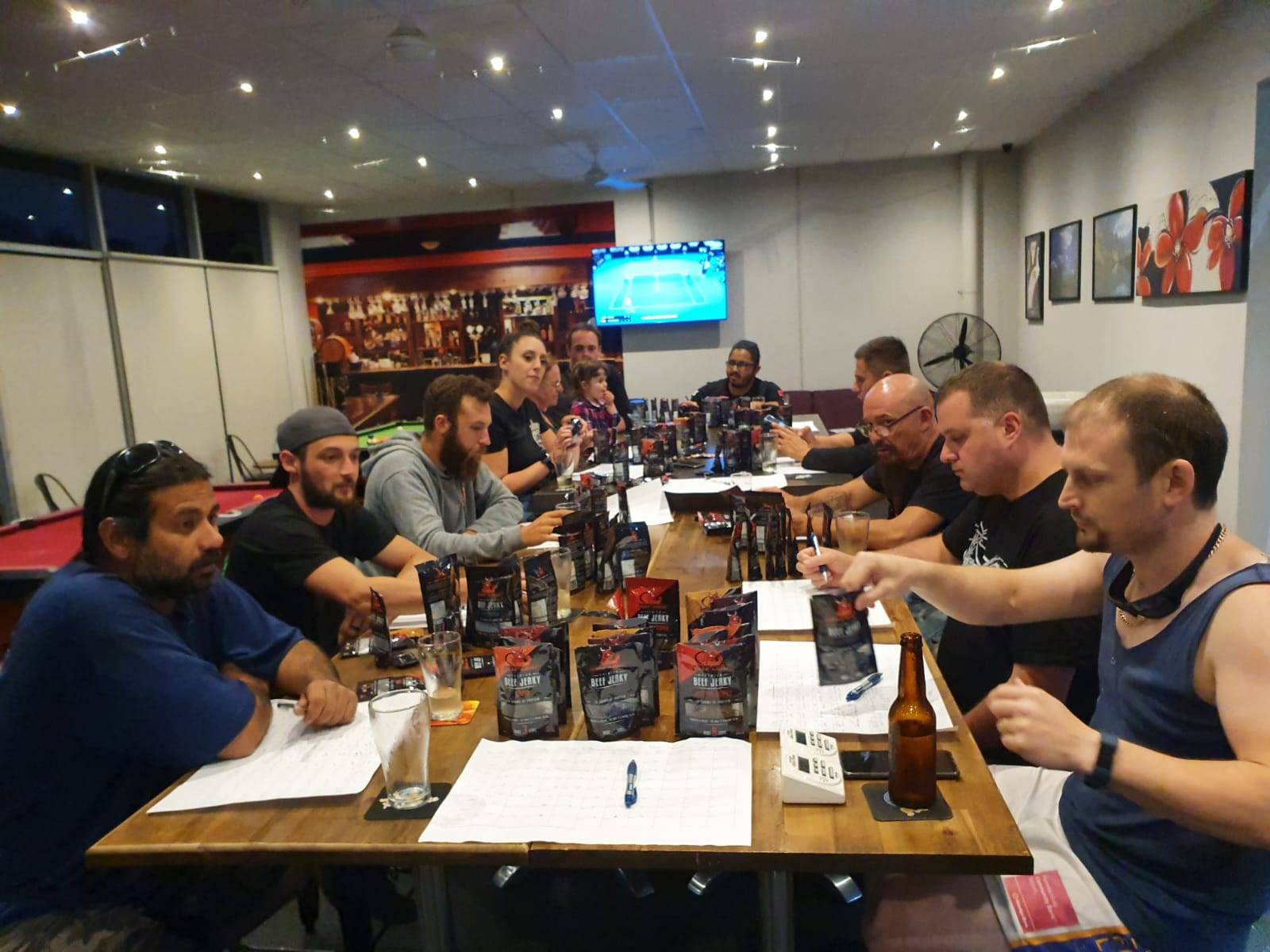 ---
Beer profiles we used in the Pairing
For the Beef Jerky & Beer Pairing analysis used a wide variety of different types of beer, we figured... the more beer the better and it turned out everyone who attended - agreed! 😉
We got the brewski breakdown from the Pro's at The Local Brew house and decided on the beauties below...
LAGER
Lagers are known for their crisp taste and well-balanced flavour. Think Great Northerns, Melbourne Bitter and Heiniken for example. The Lager is the most widely-consumed & commercially available style of beer in the world. When in doubt, you can't go wrong with Lager.

BITTER
A traditional, full- strength lager that is crisp on the mid-palate with a good malt character and smooth full-bodied flavour. Clean hop bitterness gives the brew a slightly dry finish.
PALE ALE
Pale Ale is a type of beer brewed from malted barley using a warm fermentation with a strain of brewers' yeast. The yeast will ferment the beer quickly, giving it a sweet, full bodied and fruity taste. Most ales contain hops, which help preserve the beer and impart a bitter herbal flavour that balances the sweetness of the malt. The Ale's generally come in a sweet/fruity and hoppy/dry variety.

CIDER

Cider is a fermented beverage mainly made from apple and pear juice. Cider generally varies in alcohol content from 2% ABV to 8.5% ABV. Cider varies in flavours from pear to strawberry and even mango with characteristics that range from sweet to dry.

PORTER
Porters, or Stouts, are a dark, full-flavored ale made with dark-roasted malted barley, which gives it a distinctively coffee-like, almost chocolately flavor that's balanced by bitterness from hops
SEE A QUICK SUMMARY OR WHAT BEEF CHIEF JERKY FLAVOURS WE RECOMMEND FOR EACH STYLE OF BEER BELOW! 🤤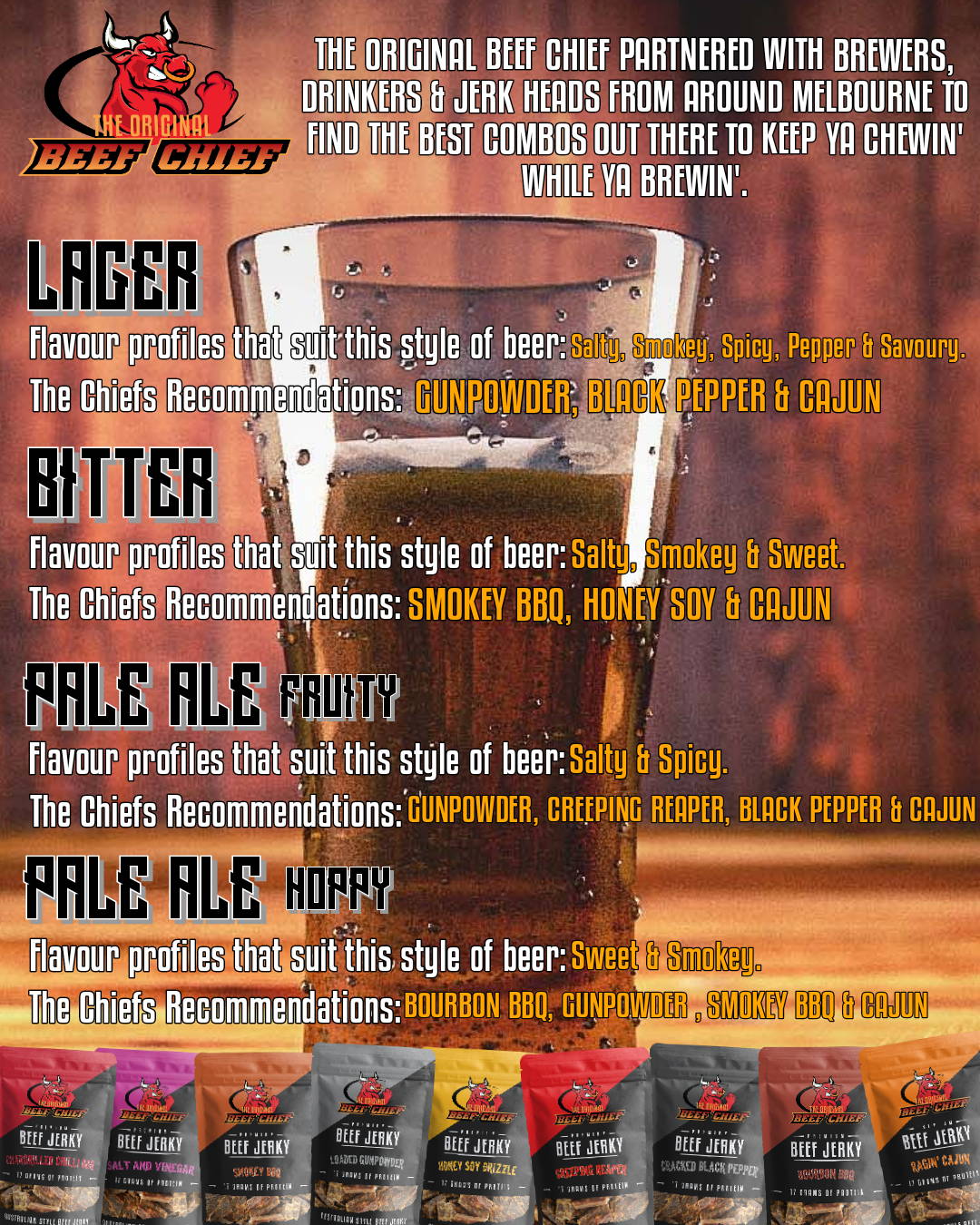 ---
---
The general consensus was that BEEF CHIEFS BEEF JERKY and ANY BEER is an absolute friken' delight and we cant say we were too surprised by this! 😁
However, it was clear that certain beef jerky recipes were rated higher than others with certain beer types, and this all probably down to balance of flavours and how they mix i.e salty/sweet, rich/fresh!
THE STANDOUT WINNER WAS EFFORTLESSLY
There's a reason why we stand behind this beef jerky recipe being AUSTRALIA'S BEST BEER DRINKING JERKY, and that's because there's no doubt!
Every single person at our pairing event made comments about it going down a bloody treat with ALL the varieties of beers. The Loaded Gunpowder's punchy salt and pepper perfectly balanced out the beers whilst the charcoal added depth and texture, making it extremely moreish! 😍

So next time ya gettin' on the chew have a read of our Beef Jerky & Beer Pairing Guide to work out the right accompanying drink you might not have considered and let us know what you think of the combo!

Click through the below and find your fav flavours to see what your next pick up from the Bottle-O should be! 🍻

CLICK HERE to download the PDF version of THE BEEF CHIEFS BEER & JERKY PAIRING GUIDE
---